As I sit here sipping coffee and waiting for iMovie to publish, I wonder what's happened to my world in the last three years.
I'm not a change management expert, but I play one in life.
Three years ago I had a different job, no children, and my hobby was knitting. I awoke every morning at 4:15 to head to the gym with my shiny new husband. I was a member of a number of clubs and boards at work and "off campus." I spent Saturdays training for races and raising money for TEAM in Training.
Now I wake at 3am to write or video a post for one of four blogs. I head to my new job, where there's always another thing to learn. In between projects, I have conference calls for boards and committees I'm on. I spend Saturdays racing after Daughter, trying to shop for groceries, and planning the next week's blog posts.
When I was 20 I connected with the quote, "Life is what happens when you're making other plans." I wasn't even aware of the full truth of the statement. "Life" is the default. The plans are the way we try to mitigate it.
What are your defaults?
Your defaults could be the need for travel, the need for financial stability and control, wanting to do crafts, doing something with your hands (including knitting or smoking), needing to be touched, joining clubs, needing to feel valuable… The list goes on.
I am a volunteer by default. I was about to sign up to be the leader of the Houston Chapter of Webgrrls when I remembered this. So I have to stop myself. Reset that parameter.
I am a learning addict. I'm not a "lifelong learner" like you hear some people tout. I am an addict. Tell me there's a new web based application out there, I want on it. What's it about? How can I use it? How can I twist it? Is it programmable? I want it. I learned to write iPhone apps, just to see if I could. (I can.)
How do you know your real defaults?
I always thought that I was a cyclical hobbyist. Sister-in-law asked me yesterday if I've ever cycled back to a hobby. I haven't. This made me think – am I a cyclical hobbyist or is there something more?
I choose hobbies because the provide something else to learn. Once I've learned enough to satisfy me, I move on to the next thing. I've realized in the last 12 hours that I'm a learning addict.
Be careful to identify your real defaults. And accept the fact that you could get them wrong. Keep looking for them and they'll eventually show their true nature.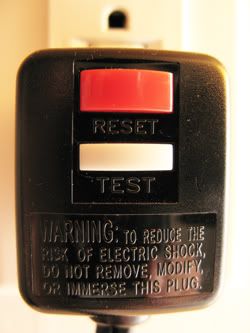 How can you adjust your parameters?
What do you do if your defaults are destructive? Volunteering too much and spending my life with my face in a computer takes its toll on my life and family.
Make it a point to know your defaults and remind yourself of them. Often. Decide, consciously, how you will deal with them. Adjust your parameters – even though they might reset themselves, keep trying.
I have decided that in order to volunteer for something, I have to stop volunteering for something else. I'm part of the OTC The Next Wave planning committee. In May, my time as chair ends so my volunteering for that will decrease to only being on the committee. The time and energy commitment will decrease. I'll have space to volunteer for something else.
I haven't figured out how to mitigate my learning addiction. Of course I just learned about this default in the last 12 hours.
Conclusion
Each person has a certain set of defaults. You can change your parameters but they always reset themselves back to the default eventually.
This doesn't mean that you must sit by and live with them. Constantly seek to reassign the parameters. Just because life is what happens when you're busy making other plans, doesn't mean you stop planning.
What are your defaults? How do you mitigate them? Share them in the comments.