Facebook, Twitter, LinkedIn, and whatever comes next. Are you able to handle them all?
Here are six options to get you through and keep you connected, with minimal time expenditure.
Get up one hour earlier on Sunday morning. Enjoy a steaming cup of Joe at your computer while you browse updates from the previous week.
Long drawn-out discussions over many weeks are acceptable in this new eWorld. Ages ago, people would write letters back and forth and it would take a week to get to each conversationalist. Allow your twitter account to be like this.
You don't want to have 1 million updates go out all at the same time. Use a service like www.HootSuite.com to schedule your updates and responses for the week to avoid this.
Take the first or last 15 minutes of your day or 15 minutes of your lunch hour to check your accounts. Pick a time that always works, and stick with it. Make it a habit.
You don't need to schedule responses and updates ahead of time when you're doing them each day. If it's a struggle on the weekends, skip them. Or use the narcissistic way, discussed below, on the weekends.
Every time you take a potty break, bring your smartphone with you. No one knows that you're there. Unless, of course, you tweet for someone to bring you more toilet paper.
Be careful on this one. If you start to get addicted to your social networking sites, your bottom could go to sleep, or things could dry and cake before you have a chance to properly tend to them.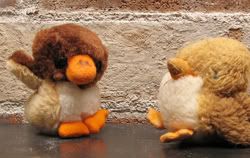 Set a timer for 55 minutes and work. When the timer goes off, reset it for 5 minutes and open up your TweetDeck. Respond to as many updates as you can before the alarm goes off again.
You'll be surprised at how much you get done.
When the alarm goes off, STOP IMMEDIATELY. Don't finish. Don't read one more. Close the window on your computer.
If you get a task done in less time than you anticipated, allow yourself a few minutes as reward.
Set a timer, though. If you have 10 minutes left in the hour, don't take more than that. Follow the same rules from number four, above.
Choose any plan above for tackling responses. For outgoing tweets from your own brain, do them any time.
Don't use a real-time social networking application, though. You don't want to be tempted to see what other people are writing.
Text message to 40404 to tweet, and have your Twitter updates go to Facebook and LinkedIn. You can also use a smart phone app. I use Tweeter for the iPhone. It's not longer available but I found Tweet Now that works exactly the same way.
Conclusion
All of these can be mixed and matched. Choose one for weekdays and another for weekends. Try different combinations over the next month or two, and figure out what works. The key is to build a habit and stick with it.
Do you already have your habit established? Share it in the comments. If not, what will you try first?
A big thanks to Lubos for the post suggestion.