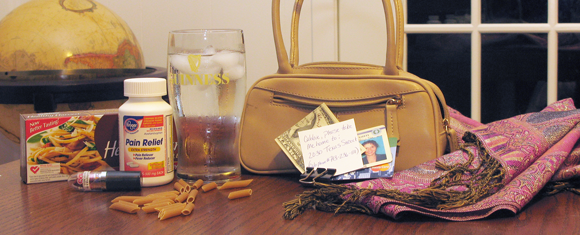 Heading out for a New Year's Eve Party tomorrow? Follow these steps to make your evening a success.
You don't want to be fidgeting all night with some goofy outfit. Use something basic and dress it up. My favorite image consultant has some tips on this.
| | |
| --- | --- |
| 2 | Don't take anything you don't mind losing. |
If you wear your mother-in-law's fur stole, carry your $30 tube of lipstick, your $600 point-and-shoot camera in your $300 Coach bag, you're asking for trouble.
Instead, wear your $20 pashmina, buy a one dollar tube of lipstick from Walmart and don't worry about any pictures. Life will go on if you don't post anything to Facebook for one night.
Pack all your necessities in a small purse that you can carry under your arm.
Men – just leave your camera at home.
| | |
| --- | --- |
| 3 | Plan your escape route. |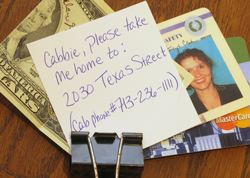 Find a phone number to a local cab company before you leave the house.
Go online and determine how much the cab fare will be. Fold up the right amount of cash, including tip, and staple it with the the cab company phone number and your address.
You probably shouldn't safety pin this to your shirt. But that's the general idea.
| | |
| --- | --- |
| 4 | Check the stability of the toilets. |
In the bathroom your pants are around your ankles and you're bending over. Add alcohol to this mix, and you're bound to destroy something.
Make sure the toilet is affixed firmly to the floor in the tank rests up against the wall. If not, find a bathroom in the house that is.
I give you this tip based on experience.
| | |
| --- | --- |
| 5 | Remember your date's name. |
If you go with someone new, don't forget who she is. If you're with your wife, make sure you kiss her and not some other random girl who just happens to be standing around.
If necessary, practice saying your date's name 100 times.
| | |
| --- | --- |
| 6 | Lock the bathroom door. |
During the first half of the night lots of people will be needing the restroom. Don't forget to lock the door when you go in to do your business.
On the flipside, as you get more drunk make sure to leave the door unlocked. If you pass out while on the pot, somebody's going to need to come rescue you.
If for some reason you end up in the bedroom doing things you shouldn't do but really want to, make sure to lock that door too.
| | |
| --- | --- |
| 7 | Stick to one type of alcohol. |
Race how you train. Don't drink something new and interesting.
And stick with only one thing. That little poem about liquor before beer and beer before liquor is crap. Keep it simple and you will be fine.
Take the one or two sips of champagne at midnight and then stop.
He's working especially hard tonight, so reward him. He's the last person you want to piss off, too. Show him a little New Year's cheer and he'll make sure you get home safely and quickly.
| | |
| --- | --- |
| 9 | Take Tylenol and drink tons of water before you go to bed. |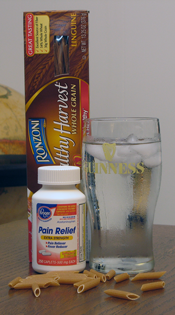 Prepare for the hangover. Two tablets and a couple of glasses of water will help a lot. If you can eat something, that helps.
Consider setting something out before you leave for the party. Have your hangover kit ready.
| | |
| --- | --- |
| 10 | Eat pasta the next morning. |
It's really easy to grab a burger or three. But pasta will do your stomach the best good. Again, it's best if you set it out before you leave for the party the night before.
Follow this method and your celebration will be a success. Happy New Year!
Please share your tips and experiences in the comments.